Action Items Lists: Stay on track
---
Action Items Lists are a tool to record and track tasks that help support main projects. They keep these smaller tasks from falling through the cracks.
So shall it be written, so shall it be done. Action Items Lists are one of the simplest and most effective tools a manager or project manager might employ to keep process improvement initiatives or projects on track.
There are many project details or tasks that don't warrant a task line in a major project schedule. However, these tasks must be done, and often by a certain time, in order to not hold up related activities or decisions. Action Items Lists are a commonly used tool to record and track such tasks to keep them from falling through the cracks. Beyond project-specific action item lists, Sterile Processing Department (SPD) managers can keep track of important process improvement tasks and other actions they've assigned to address important work and issues.
The Action Items List shown below is effective for documenting detail as well as tracking and communicating progress. Create your own variation to fit your department's needs.
How to Use:
Whatever the format you choose, engage it early in the process. Creation of an Action Item List should coincide with the formation of the new project team and kick-off of the project. The Action Item List is key in the initial phase, because a schedule for tracking tasks may not yet exist at this point.
Action Items Lists will help guide your team as they identify issues, possible solutions, stakeholders, required resources, potential pitfalls, and timelines for completion. Complex solutions may be detailed into multiple steps, and creating this detailed to-do list will help you think through the elements of each step and keep the project moving forward.
Determine the format and program you want to use. The list can be implemented in a spreadsheet, as the example shown below, or a more sophisticated database.
Assign responsibility for maintaining the list. This usually falls to the Project Manager, or a designated project coordinator.
Record new action items in each team meeting.
Determine how you'll track action item status. Options include:

Collect status offline before the team meeting. For example, establish the expectation that team members update their progress on action items that are due or due within the week at least one day before the review meeting.  The Manager can then bring the updated Action Item List to the meeting for reference. This way the meeting isn't slowed down by doing the actual update during the meeting.

The Manager also examines the status before the meeting and flags any items that should be highlighted or require discussion by the team in the meeting. This way, the meeting stays efficient by ONLY discussing things that truly need group attention/discussion.  This can be an effect way of holding people accountable to their dues dates without necessarily calling them out in front of the group.

For upcoming items, simply note whether it's on track or in trouble, and who the owner needs to work with to get it out of trouble.

Post the latest Action Item List where all team members can access it, to see status of items not covered in the meeting, and always be able to see what items they have been assigned.
Strive to keep your "completion metric" (the percent of actions completed on time during each time period) at 80% or above. As a rule, when completion rates start to fall, reasons include:

Due dates are being assigned too aggressively

People aren't taking due dates seriously

Combination of the two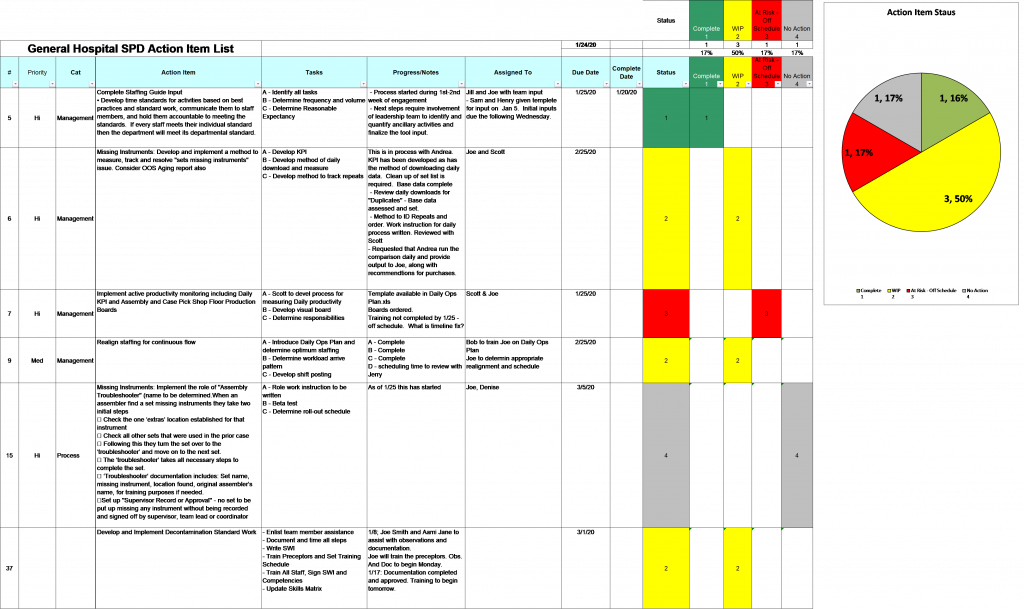 Make sure the tool is used correctly!
You're in the planning mode, so plan to check out more PROCESS PROs, and subscribe to receive articles directly to your inbox!