Let's Talk Shelf Life
---
Does your facility have policies and procedures for the shelf-life of sterilized items?
Per AAMI 79
11.1.3 Shelf life
The health care facility should establish policies and procedures for determining shelf life.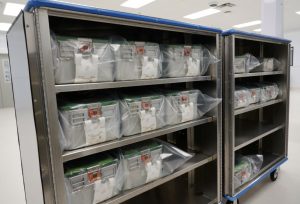 The shelf life of facility-sterilized items is event-related and should be based on:
The quality of the packaging material
The storage conditions
The methods and conditions of transport
The amount and conditions of handling
Inventory should be rotated on a "first in, first out" basis. Rationale: Shelf life is not simply a matter of sterility maintenance, but also a function of device degradation and inventory control.
The contamination of a sterilized item is event-related, and the probability of its occurrence increases over time and with increased handling. See also Joint Commission (2016) and AORN (2017b).
I cannot stress enough to check the IFU on the packaging material your organization has chosen. Did you know that many peel packs have an expiration date? Also, people always ask about windows in the storage area. Sunlight degrades many of the packaging materials; although sunlight makes us happier people, it makes blue wrap unhappy and unhealthy.This is a text block. You can use it to add text to your template.