Employee Recognition and Appreciation: Thanks goes a long way
---
Employee recognition and appreciation instills a sense of achievement and reinforces the value employees bring to the team.
Sterile processing departments nationwide are facing a major problem: a lack of good, qualified employees. While HR departments are busy recruiting and hiring, and educators are busy training those new hires, it is leadership's job to help ensure employees are satisfied with their work and don't leave. The most economical way to do this is through employee recognition and appreciation.
Let's first start by making everyday Employee Recognition Day!  I'm not joking.  Recognition provides the greatest benefit when performed regularly, timely and linked to a specific behavior, effort or result that supports the department's objectives and values.  This means you can't wait until Sterile Processing Week or an Annual Review to recognize your staff.  You need to do it in real time, or at least as close to real time as you can, on a regular basis.
Recognizing someone meets a fundamental human need of feeling valued and gives employees a sense of achievement. Having someone from the leadership team personally thank you by name and recognize your efforts reinforces the value you bring to the team.
How can we recognize our employees?  First, you need to see the opportunity. Many leaders spend time in their departments but never recognize their staff nor see the opportunity to do so.  Now that you're in the department looking for ways to recognize people, remember that recognition doesn't have to be solely related to a production related performance.  You can recognize the staff's efforts and challenges, employees taking on assignments they've never performed before, specialized skills, the staff's input and improvement ideas, and most importantly, the traits and behaviors you want to reinforce and encourage in others.
Recognizing more than one facet of work is also beneficial.  If you only recognize staff for assembling the most instrument trays in a day, then the staff will subconsciously believe that assembly production is the only valued performance metric you care about. Recognizing a wide variety of important traits and performance measurements will keep your staff well-balanced.
You can also tell someone that the company and team is better because he or she is part of the team.  Without this person, the company would suffer.  This is recognizing individuals as a contributor and valued human being and not because he or she performed a certain way.  Sometimes this is the most impactful recognition a person could receive.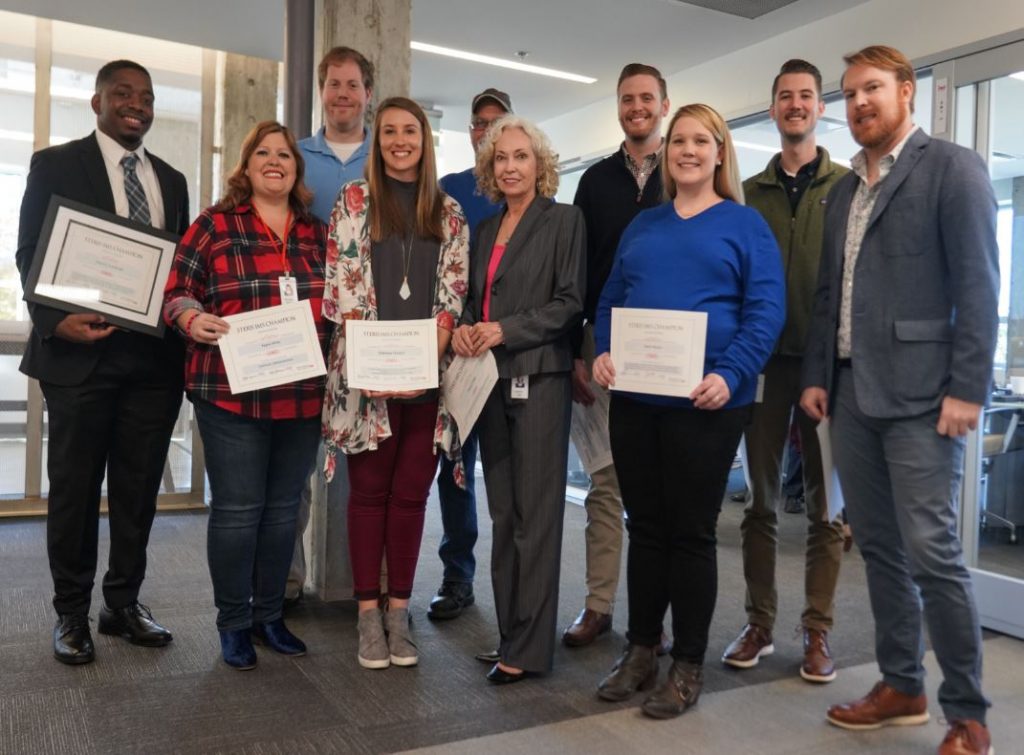 Some of the best practices in recognition include making it timely, specific and sincere.  Thank them by their name, specifically state what they did that is being recognized, explain how the behavior made you feel, and point out the value added to the team.  End by thanking them again and saying how much you appreciate them.
This approach is effective.  Staff will gravitate towards the behavior that is recognized and thus help reinforce the department's objectives. The more you recognize their contributions, the more employees will feel welcome, comfortable and satisfied with their work and have a greater sense of ownership in helping the company succeed.
I have seen plenty of benefits from consistent and sincere recognition.  Staff satisfaction increases, productivity and quality metrics improve, work environments become positive, turnover is reduced, and staff becomes engaged in helping make things better. These benefits directly impact the product and service quality provided to Customers and thus create a downstream impact of improved Customers satisfaction.
In summary, recognition is a valuable tool that costs nothing to give, is wanted by all and improves the organizational and personal well-being of the department.  Why would you not want to do it!  Here's to 2020, the year of Employee Recognition!
Share the PROCESS PROs with your employees so they can subscribe today! Don't just take our word for it. See what other professionals say about employee recognition and appreciation.